Two Rivers wins badge of honour for sustainability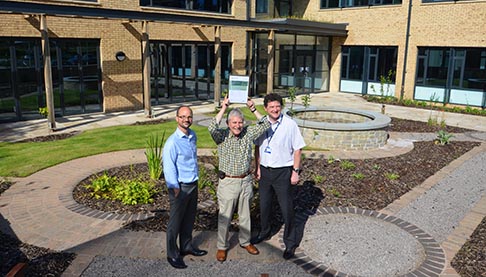 It's official! A local housing association has the first new office building in Gloucestershire to be awarded the prestigious BREEAM 'Excellent' badge of energy-efficiency and sustainability.
Confirmation came through, five months after Two Rivers Housing moved to its bright, efficient, purpose-built premises in Newent, called 'Rivers Meet'.
BREEAM is a nationally-recognised measure of best practice in sustainable design, construction and operation. Two Rivers' Chief Executive Garry King was passionate about building a great working environment for staff, but not at the expense of the environment.
"Every aspect of the building has been very carefully thought through and it successfully combines attractive design with functionality and energy-efficiency," he said.
"We used local suppliers, contractors and materials wherever we could to reduce our carbon footprint during construction and we started saving money from the day we moved in – money that will be ploughed back into tenant services."
Rivers Meet earned a top 'A' rating for energy performance. Other features that contribute towards the BREEAM 'Excellent' assessment include:
photovoltaic roof panels to generate electricity.
air source heat pump.
low-energy lighting.
high levels of insulation.
water-saving appliances.
composting and recycling facilities.
electric vehicle charging points.
sympathetic landscaping and planting that encourages wildlife onto the site.
Two Rivers enjoyed strong support from the town council as the office – and its next project to build an extra care facility on adjacent land – is helping to regenerate an area of waste ground on the edge of the town. Both will boost employment and business in the area.
The town Business Club held its May meeting at Rivers Meet, the local MP has arranged to rent a room to hold surgeries with constituents at the building, and there has been additional interest from organisations and societies looking to book rooms for conferences and other events.
"We settled into our new surroundings very quickly," said Garry. "Feedback from staff and visitors has been overwhelmingly positive and the town has given us a very warm welcome.
"The office represents a great long-term investment and gives us the opportunity to spread our wings in many ways to become even more embedded within the community."
Two of the four major companies involved with bringing this project together are local: Britannia Construction (Cheltenham) and Walker Pritchard (Tewkesbury).
Paul Halfpenny, Managing Director of Britannia Construction, the scheme's principal contractor said: "It's been an exciting journey to be part of. Providing a new facility, built by our own Gloucestershire staff, which gains a county first is not something we are involved in every day. Britannia Construction is proud to have the in-house skilled tradesmen, designers and supply chain which contributed to realising the ambitions of the Two Rivers teams. Protection of our environment and its resources is something we can all influence; this building is testament to that."
Ian Pritchard, Director of Chartered Surveyors, The Walker Pritchard Partnership, said: "We are delighted to have been actively involved in such a sustainable project. Through the vision and passion of Two Rivers Housing, we feel very fortunate to have been appointed to administer such an innovative project within Gloucestershire. It is clear that by investing in such a sustainable building, Two Rivers will reap benefits both immediately, and over the lifetime of the building."