TwoCan supports local Holiday Club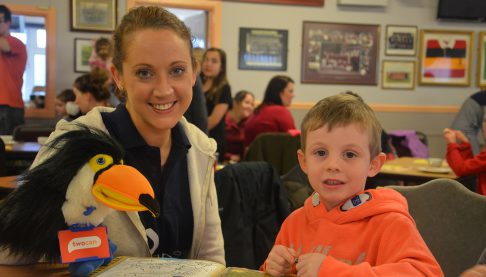 TwoCan estate agency has been helping youngsters to enjoy their half-term break by supporting a holiday club in Cinderford.
Senior Negotiator Nicola Smith assisted children with their reading and arts and crafts when she helped out at the event run by Two Rivers Housing today.
TwoCan likes to support community initiatives where it can, and this was another perfect opportunity to get involved. "We are really keen to help bring communities together at events like this," explained Nicola. "We have attended all the Holiday Clubs over the past year and love seeing the children enjoying themselves so much."
The Holiday Club is set up by Two Rivers to help families struggling with the cost of feeding and entertaining their children during the school holidays. It offers a healthy breakfast and an opportunity for children to play together and for the whole family to get creative!
TwoCan is an estate agent with a difference. It is part of a local housing charity and every penny it makes in profit is gifted back to the charity to support its work – investing in homes to rent at affordable prices and building strong communities.