Bringing education and business together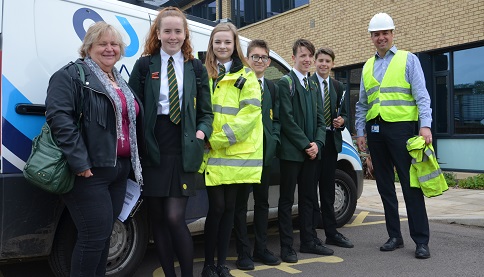 Over three days, Year 9 students at Newent Community School were given the opportunity to engage with the business community in and around Newent.
Two Rivers Housing was delighted to host the event for the third consecutive year.
Garry King, Chief Executive, welcomed the students and explained the importance of everyone being able to live in a decent, safe, warm, well-maintained home.  He spoke about the high cost of housing and the work done by housing associations to provide affordable homes for both rent and shared ownership.
Students were also given an insight into the various job roles and opportunities that exist within the organisation, from finance and customer services to grounds maintenance and human resources.
They were then divided into groups and visited other local businesses to give them an insight into different workplaces that could be found in and around Newent.
Sue Lawrance, Head of Careers, and Pippa Palmer, Co-ordinator of Work-related Learning, from Newent school, organised the event and commented: "The visits to local businesses gave students an excellent opportunity to have a taster of the world of work and a range of working environments. Our grateful thanks to Two Rivers Housing for their warm welcome and amazing hospitality. It was a great bringing together of education and the business community of Newent."
Garry King, Chief Executive, Two Rivers Housing, added: "I am very pleased that we could host this visit, as we are committed to supporting communities. We are delighted to be able to provide this opportunity for the Newent students to study local businesses and to hear from our employees about the work that they do for TRH and its customers."