We are officially 'outstanding'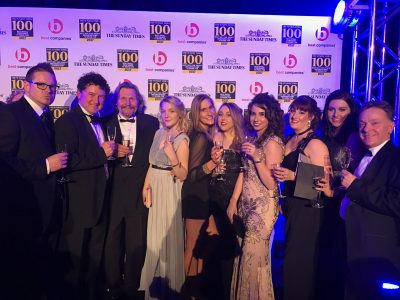 It's official – we are one of the top 30 companies to work for in the UK!
We have climbed 23 places in the "˜Best Companies to Work For' list (not-for-profit organisations) in the last 12 months, taking us to the dizzy heights of number 23.
Two Rivers first entered the Top 100 in 2014 at number 82. We improved by 17 places the following year (to 65) and then broke into the top 50 in 2016 when we achieved the position of number 46.
News of further improvement came when staff attended an award ceremony in London, and were thrilled to hear their final position announced – putting the organisation firmly in the top group of "˜outstanding' performers.
Garry King, Chief Executive, said: "This is amazing news for us. We are a relatively small organisation competing against some large, national and long-established businesses, and only those with the highest level of overall staff engagement make it onto the list.
"We have been delighted to see a steady improvement every year we've taken part, and reaching no 23 is a tremendous achievement. It's actually better than I ever dared hope we could achieve.
"This shows that we're doing something really positive in the way we treat our staff and create a great working environment. If people feel well-supported, listened to and involved, they will give their best – and that means our tenants, customers, suppliers and partners will receive a quality service.
"Our business is growing and we are moving into new areas, which is great news for local jobs, and we will always strive to do our best for the people who work so hard for us."
The "˜Best Companies to Work For' lists measure and acknowledge excellence in the workplace and hundreds of organisations from a wide range of industries put themselves forward every year.
The results of last year's survey will be shared with managers, helping them to learn from the feedback about what works well and where improvements can be made, to make Two Rivers Housing an even better place to work.