A Helping Hand at Ross Community Gardens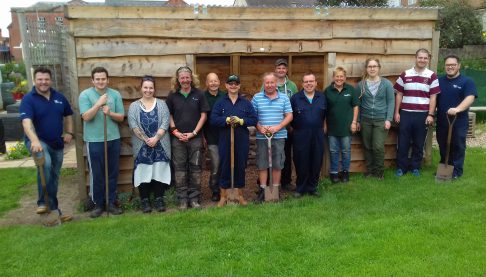 Six members of staff from Two Rivers Housing in Newent gave up a day to support Ross Community Gardens and the wonderful work it does for the local community.
The Community Garden is a three-and-a-half-acre site and the project works mainly with adults with learning disabilities, mental health illness and those who are long-term unemployed.
"This is such a beautiful facility and the work the garden team does on a daily basis is fantastic," said Rachel Smith, Head of Housing at Two Rivers. "Accessibility is really important for many of the people who visit the gardens, so we helped make some raised beds out of wood. We also fitted some potting benches in one of the polytunnels. It was at this point we ran out of materials, otherwise we would have made more!
"Not only was it a really rewarding day but we had a great laugh too, and we'd like to say thank you to Tim and the rest of the team for making us so welcome."
The team also weeded and cleared areas, watered plants inside the polytunnels and helped with some general maintenance tasks.
"We were delighted to have staff from Two Rivers Housing join us for the day," added Tim Shelley, Project Leader for Ross Community Gardens. "Not only did they generously donate materials, but they worked tremendously hard and really connected with the people we support. It's so good to work alongside a company that wants to give so much back to the local community."
This is the latest in Two Rivers Housing's "˜Helping Hands' initiative which gives each staff member a day out of their normal working hours to help other organisations and charities within the community it serves.