Making Easter 'eggstra' special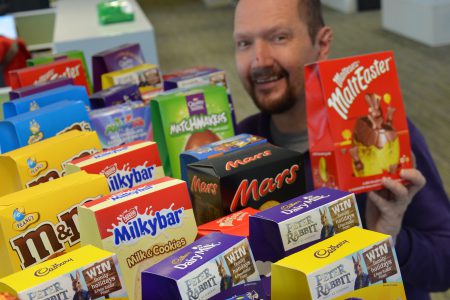 Two Rivers Housing staff have generously donated Easter eggs again this year which will be gifted to vulnerable children, homeless young people and disadvantaged families across Gloucestershire.
Around 60 eggs were delivered to the Forest of Dean Salvation Army this week, in time to make sure the Easter bunny can get around and visit those in need before the big day.
Julie Burlow, Community Engagement Team Leader at Two Rivers Housing, commented: "We were delighted to be able to support the Salvation Army again this year and help to make Easter a special time."
Major Vivienne Prescott, from the Salvation Army, added: "It is often the little things that we take for granted in life, like a simple Advent calendar at Christmas and a chocolate egg at Easter. But imagine if you were the only one in your school class or on your street who didn't get one?
"No child should have to feel different … every child is precious. We are so grateful to the staff at Two Rivers Housing for ensuring that we can bring a happy Easter to more children in our community."