Sharing memories of Newent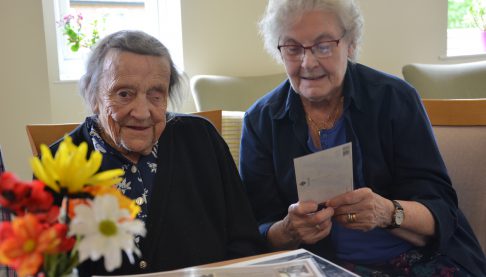 Two Rivers Housing and Barnwood Trust held its first "˜Memories of Newent' event, reminiscing about the changes and developments that have taken place over the years. The event was led by Penny Hulbert from Barnwood Trust and held at Ross Willis Court in Newent. This is the second of its kind, after a similar session took place in Lydney. Residents and tenants from the local community enjoyed sharing old photos, books and stories as well as a cup of tea and a piece of cake!
Highlights from the discussion included memories about the American soldiers based in Newent during the 2nd World War and the owner of a well-known store, which sold sweets and general groceries, who was an Italian prisoner of war. There was also conversation about the almshouses in Newent, which had a long and interesting history. They were known as "˜Nanfan' and "˜Dobyn' as they were the family's names that donated the land and, or, funds to build them.
There was a lot of chatter and laughter as memories were shared and expanded on within the group and it offered a great opportunity to socialise and make new friends.
Julie Burlow, Community Engagement Team Leader at Two Rivers Housing, commented. "It was so very interesting to hear stories of Newent through the years. We had a range of Mr Robert Bisco's old photographs which prompted memories about some of the buildings in the town and their various uses over the years. Many thanks to his grandson, Mr Ian Bisco, for allowing us to use these beautiful pictures."
There has been so much change to Newent over the years, it is important to also preserve the past and to appreciate its heritage. We are very much looking forward to the next session. If you are interested in coming along, please call 0800 316 0897 and ask for the Community Engagement Team, or email communityengagementteam@2rh.org.uk . for further information.