Children have a 'rock-ing' time with Two Rivers staff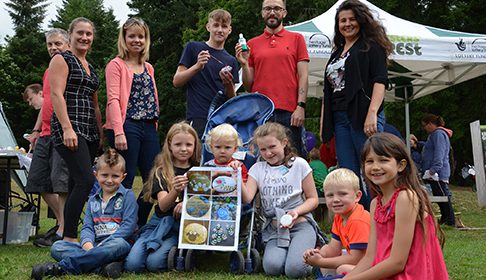 Six members of staff from Two Rivers Housing volunteered their time to support "˜National Playday' at Beechenhurst, near Coleford, as part of the "˜Helping Hands' project.
The team worked in partnership with the Forestry Commission and Forest of Dean Rocks offering free rock painting for children. The idea is to have fun creating, hiding and finding the decorated stones, and then posting photos of them on FODRocks' Facebook page.
"We were incredibly busy", said Penny Mail, Community Engagement Advisor from Two Rivers Housing. "We had to get more rock supplies delivered by 11am! It was wonderful to see so many children wanting to take part, enjoying an outdoors activity, being creative and having fun hiding and finding rocks together. Being involved in the local community is important to us and this was a very rewarding day."
Mum-of-two, Jessica Shackell, brought her children along and added: "The school holidays have started, and it can be difficult to find activities to keep the children amused. My son and daughter loved painting a rock each, and the fact it was free was an added bonus. Thank you!"
Helping Hands gives each staff member a day out of their normal working hours to help other organisations and charities within the communities served by Two Rivers.