Creating great homes and supporting communities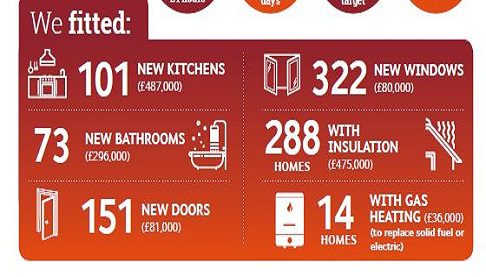 Two Rivers Housing invested just over £15½ million in new homes last year – giving more than 100 families the opportunity to rent a home at a price they could afford.
A further £15 million is currently being ploughed into building more new properties, and the local not-for-profit organisation will continue investing at a similar level over the next five years, to address the shortage of affordable homes in the area.
Two Rivers owns 4,000 homes, making it the largest social housing provider and developer in the Forest of Dean. It also has a very strong community focus.
Its annual review of 2017/18 activity has just been published, and includes the following headlines:
88% of tenants said they were satisfied with the overall service received from Two Rivers Housing.
£1.7 million was spent on repairs and maintenance.
99% of all daytime emergencies were resolved in less than 24 hours.
£1 million was spent on upgrading kitchens, bathrooms, doors, windows and insulation.
£15.6 million was invested on 116 new homes that were completed during the year.
£15 million is currently being spent on 93 new properties.
17 homes were built and sold to private owners, generating extra income to be invested in new affordable homes.
22 tenants bought their homes through "˜Right to Buy' or "˜Right to Acquire'.20 people chose a Shared Ownership (part-rent, part-buy) home.
3 Shared Owners bought their homes outright.
488 tenants received advice from the free debt and welfare specialists, helping them to manage debt and claim benefits and grants totalling over £1 million.
2,400 events were held throughout the county for tenants and the wider community to enjoy.
Staff gave 800 hours of their time to support 20 local groups and charities through a variety of activities.
Two profit-for-purpose subsidiaries – Centigen Facilities Management and TwoCan estate agency – continued to grow.
"We have had a busy year managing our routine work, whilst addressing new challenges such as Universal Credit and building an increasing number of affordable homes," said Garry King, Chief Executive at Two Rivers Housing. "Despite this, we achieved an impressive 88% satisfaction rate from our tenants and our highest-ever rating in the Top 100 list of best not-for-profit companies to work for.
"There's plenty to stretch us in the year ahead, but this is a very solid position to be in and I am proud of the team that does its best for our tenants every single day."
The Two Rivers Housing Annual Review 2017/18 can be found in the 'Library' under the 'Reports' tab .