Supporting local toy appeal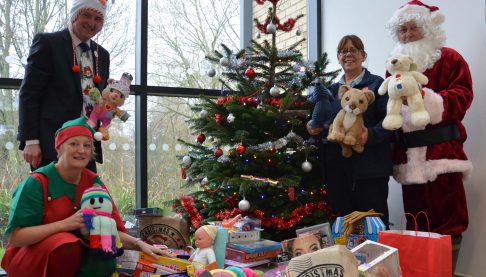 Two Rivers Housing has made sure around 250 local children and teenagers will wake up to presents on Christmas Day, following a generous show of support for the Salvation Army Christmas Toy Appeal.
Books, toys, games, clothes and an array of other gifts were donated to the Forest of Dean Salvation Army, to be given to local families in difficulty and who are seriously struggling to buy gifts for their children this Christmas.
Garry King said: "We have supported this for several years, but this is our most generous contribution to date. I am so impressed by the way staff got behind the appeal, and many people gave several things to make sure we supported it in proper Two Rivers style! I am sure this will make a huge difference to many families this Christmas."
Major Vivienne Prescott, of the Forest of Dean Salvation Army said: "I was quite overwhelmed by the generosity of Two Rivers staff. It was an amazing contribution and I just wish they could see the faces of the parents who will receive these gifts for their children to open on Christmas Day. I thank them all from the bottom of my heart and on behalf of these families."
You can make a donation to the Forest of Dean present appeal, or find out other ways to get involved and help make a difference to people's lives in the community by contacting your local branch or by visiting www.salvationarmy.org.uk .